Product Lines
Take your tan to the MAX with our tan-enhancing products.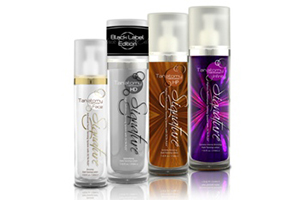 Tanatomy Products
The Ultimate Tanning and Skin Care Products
Highest Technical Achievement with the newest breakthrough ingredients.
Super Octa Plex Complex™ all 8 known Tan Intensifier.
Results in the richest personal tan and superb anti-aging, skin preservation.
Products Available: HD, HP, Infinity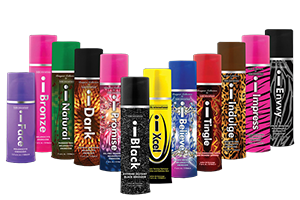 iLine Products
Featuring Advanced Skin-Enhancing Ingredients
Specific products for every tanning need.
Exclusive Melanocyte Energizers™ producing the highest level of melanin and additional tanning benefits.
Advanced, multiple skin enhancing, moisturizing and nutrition ingredients with preferred fragrances.
Products Available: iEscape, iKiss, iInk, iPleasure, iBlack, iTease, iDazzle, iIndulge, iImpress, iNatural, iEnergy, iShower, iExtend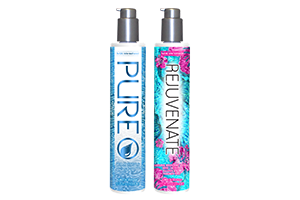 Serenity Products
For Tanners Seeking an Oasis
Enjoy the rejuvenating benefits of anti-aging, skin softening, hydrating ingredients.
Uses no self tanning ingredients.
A paraben free product with a pure, clean scent at a mid price point.
Products Available: Pure, Rejuvenate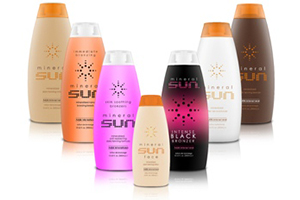 Mineral Sun Products
For an Immediate Tan & Richest Possible Skin Color
Mineral makeup for the body and face combines the perfection of immediate mineral tan with the latest discoveries in the science of tanning skin care.
Immediate flawless, radiant tan while energizing the skin for a deeper UV tan, and selected products are enhanced with various levels of bronzing.
Superb Skin and Tan Enhancements—Silicone Emulsion, Aloe, Shea and Cocoa Butter, and Walnut Oil, improves the overall well being of the skin.
Products Available: Intensifier, Anti-Reddening, Black, Face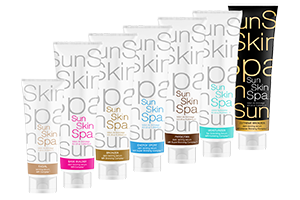 Sun Skin Spa Products
For the Pampering & Proven Skin Benefits of a Spa
Experience the pampering, proven result of a Spa—achieve your perfect tan and superb skin care.
Multiple premium Intensifiers, for a rapid and golden UV Tan, MR Complex™ & additional complexes to condition, firm & prepare the dermal layers for tanned, healthy, youthful looking skin.
A bonus of wrinkle reduction, anti-aging benefits and skin firming for Sesa-Flash™ and additional Cosmeceutical ingredients. Fragrances vary—all are clean, spa like and leave a light fresh scent.
Products Available: Base Builder, Natural Bronzer, Extreme Bronzer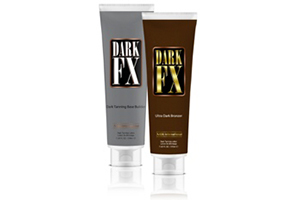 Dark FX Products
For Beginning & Budget-Minded Tanners
Good quality products, formulated for use with UV Tanning Equipment at everyday, value prices.
Ideal balance of tan intensifiers and skin conditioning moisturizers and vitamins.
New Light Tingle Product for enhanced mirco circulation and the glow of "a day the beach."
Products Available: Base, Bronzer