Max Tan's Signature Custom Spray Tan is applied by a trained Custom Spray Tan Specialist in a relaxed and comfortable atmosphere. Your Spray Tan Specialist can tailor your experience to your specific wants, giving you the BEST results. Our Signature Custom Spray Tan provides a natural color tan with total body hydration and lift. Walnut toned bronzer complete with advanced DHA technologies to customize your color also restore youthful transparency and firmness to your skin. Please call to schedule your Signature Custom Spray Tan.
Pricing
1 Full Body: $35
2 Full Body: $64
4 Full Body: $116
6 Full Body: $150
Location Available: Central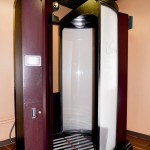 This is no ordinary sunless booth. VersaSpa's innovations transform your skin in just minutes. Bronze, hydrate, and smooth fine lines in one session. Max Tan's VersaSpa offers you three full-body treatments—a pre-sunless pH balancing treatment, a sunless bronzing treatment, and a post-sunless super hydrating treatment. Enjoy the process as much as the results and relax with a wide-open interior design. Walk in at your convenience for your VersaSpa spray tan session.
Pricing
1 Full Body: $20
3 Full Body: $45
Locations Available: North, South, Central
UNLIMITED VersaSpa Tanning
Pricing
$49.99 Per Month Membership
UNLIMITED VersaPro Tanning
Pricing
$64.99 Per Month Membership